Author: techlord
Sat. January 26, 2013
Categories:
Monetize
,
Prj001
TournamentBlitz Event Management System (TBEMS)
A Online 'Coin-Op' Computer Entertainment Complex featuring Interactive Applications & Games that communicate with TBEMS to provide a variety of 'Coin-Op' Micro-Transaction Services that can generate profits for both App/Game Developers and their Users.
Ok, that was my pitch 2 years ago. TournamentBlitz Event Management System (TBEMS)  was conceived in the BlitzBasic forums  as the Blitz Online Scoreboard System (BOSS) in 2003. BOSS evolved into a Tournament System designed to manage Online Cash-driven Game Tournaments in which Players paid-to-enter, competing for best score to win Cash Jackpots. The premise was simple, provide simple API that transforms any single player game with scoring into a cash-based online tournament.  It would be the first API of its kind, competing with skill-based cash tournaments sites of the times:
My target audience at that time were Indie Game Developers using BlitzBasic. It was extremely difficult to sell the concept. The dominating train of thought for Indies at that time was to get your  game to a Publisher, to get the your game on retail shelves. Micro-transactions had not been adopted yet, but, I had a workaround. Virtual Tokens! Unfortunately, TBEMS never grew to become what I thought would change how game Developers could market and generate profits from their works-of-art. I'd like to  think I was ahead of my time. The truth is, I lacked the drive to push TBEMS to a pioneering status. It was literally a game changer, but, no one else will know that.
Maybe its not to late to change the game! MMOs (and the Internet in general) has established various forms of  online transactions that never existed. The MMO subscription model appears to be loosing pace in favor of Micro-transactions. App Developers are now leasing software with subscriptions via Clouds. Thus, I believe the landscape for how transactions are conducted is still in its infancy and I'm seeking ways to deliberately push the envelope. I did not completely give up on TBEMS and since its conception I've created various iterations in website and web application design.  I've expanded on the concept, using all current forms of transaction models and to offer some that have yet to see offered by MMO and any other transactions API.
Potential Products and Services include:
Skill-based Tournaments
Games of Chance (RNG Scoring)
Contests & Treasure Hunts
Item Malls/Auctions
Pay-Per-Play
Paid-To-Play
Online Scoreboards/Rankings
Crowd Funding Donations/Purchases
Cash based Achievements
A majority of these services can be applied to any type of Application, not only Games. Additionally, more than one product/service can be used to provide multiple streams of profits.
Insectoidz Demo

Click to Download the INSECTOIDZ Demo (Requires DX7).
First TBEMS Demo Arcade Game. Developed with Blitz
U/P: guest/guest
TBEMS for ProjectKomodo
ProjectKomodo is the consolidation of all of my game ideas over the years. It has been a 9 year dream to bring TBEMS to the masses in some form or fashion. At least bring the concept of transforming any single player game with scoring into a cash-based online tournament. I see this as the opportunity and I'm not a big fan of retro-fitting.
TBEMS API is has been redesigned to be more easier, flexible, and secure than ever only relying on HTTP request/response messaging (client-side) to communicate a TBEMS Master Web Server. This network operation fits perfectly into the ProjectKomodo's Network Topology. The API can integrates into any application, on any platform with a means of HTTP communications. Using HTTP, a request string of specified variable-value pairs are sent to the TBEMS Processor, TBEMS responds with data in two possible formats: Plain Text (Carriage Return delimited) or XML.
Request
http://electric-lizard.servegame.com/tbems.php?command=buy&item=CVD30314932&authkey=13340AADGFX2034556DLG

Response (Plain Text):
AuthKey 13340AADGFX2034556DLG
TokenBalance 95

Response (XML):
<authkey>13340AADGFX2034556DLG</authkey><tokenbalance>95</tokenbalance>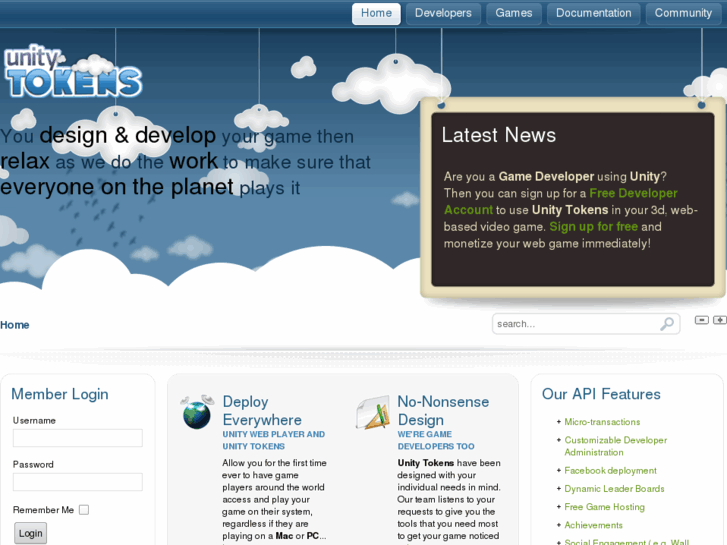 However, I have no intention of overtly promoting the TBEMS API this time around. In 2010, Unity3D Developers saw the potential of a Transactions API and developed Unity Tokens. Unfortunately,  Unity3D discontinued their Token API due to a Google, Apple, Facebook offering their own token system for their networks, there are not enough developers in a third party solution. In my personal opinion, Unity3D could have continued with their API and introduced new transaction models.
UDK provides a MicroTransaction System located  in the "CloudMenuMicroTrans.uc" in UDK -> Development -> src -> UDKBase -> classes.
Notice
: link_pages is
deprecated
since version 2.1.0! Use wp_link_pages() instead. in
C:\Program Files\Apache Software Foundation\Apache2.2\htdocs\wordpress\wp-includes\functions.php
on line
3853